The National Consortium of Telehealth Resource Centers (NCTRC), funded by the U.S. Department of Health and Human Services (HHS) Health Resources and Services Administration (HRSA), assists and advises telehealth programs in their start-up, expansion, and maintenance phases. The Telehealth Resource Centers (TRCs) work together to provide information and assistance to all 50 states and D.C., Pacific Basin territories, and U.S. Virgin Islands.
During proposal development, TRC staff are best suited to answer questions you may have about:
Best practices for designing and implementing telehealth interventions (i.e., maintaining patient safety and confidentiality; over-coming connectivity challenges for rural populations)
Selection criteria for identifying potential vendors
Please note that TRCs are not involved in applicant selection, so input from the TRC may be inconsistent with proposal reviewer feedback.
In addition to the guidance provided during the proposal phase, the TRCs are available to provide up to ten hours of free technical assistance to funded proposals, specific to program planning, implementation and/or evaluation. More in-depth services can be provided via a consultative agreement with one or more TRCs, including: on-site program training and implementation, business and/or strategic planning, and comprehensive evaluation specific to telehealth program outcomes.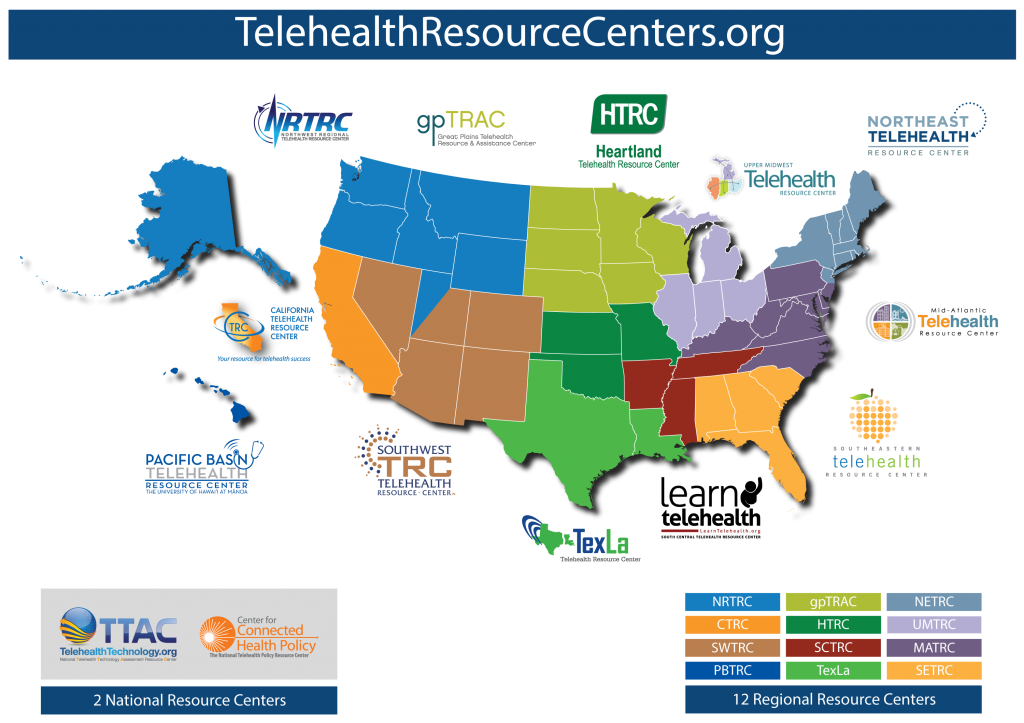 THIS-WIC strongly encourages applicants to reach out to their regional TRC for advice and possible collaborative opportunities in the development of the proposal and, if funded, implementation of the telehealth innovation. 
A few things to consider before speaking with your Regional Telehealth Resource Center:
What are your goals for your proposed project?

For example, are you looking to increase access to services, enable higher show rates for visits, enhance client knowledge, promote behavior change?

What type of telehealth program are you looking to implement?
Who is the primary audience for your telehealth program? Is there a particular subset of the WIC participants you'd like to reach (e.g., new moms)?

Consider the number of providers who will likely be using the technology and the number of participants you hope to reach.

Who is part of your telehealth team?

Telehealth programs require a team to be successful. We encourage you to include on the call with the TRC people who will be involved in various aspects of program planning and implementation, including but not limited to: administrators, subject matter experts, providers, and information technology.
Contact info for the NCTRC which can then connect you with your local TRC : 
Ray Dizon, NCTRC Project Coordinator  
Phone: (916) 993-6191 
Email: rayd@cchpca.org  
Overview of Telehealth Support
For more than a decade, the Telehealth Resource Centers have provided technical assistance and resources to a wide variety of stakeholders. Examples of these efforts include but are not limited to: 
Working

 with 

S

tate Offices of Rural Health and other agencies to provide training and education

 to rural healthcare organizations and providers on telehealth 

technology, billing and reimbursement, workflow and protocols, and more

 

Assist

ing

with the implementation of Alabama Dep

artment

 of Health telehealth program

s

 

 

F

acilitating connection and ongoing membership of Georgia Dep

artment

 of Health to state-wide telehealth network

 

Collaborating with public health departments to deliver Project ECHO programming on a wide variety of topic areas, including disaster response

 and

 overdose mapping 

 

Providing technical assistance and resources to state Sexual Assault Nurse Examiner (SANE) programs

 for telehealth implementation

 

Working with 

state

 Medicaid program to provide 

t

raining and technical assistance for rural providers to

 

enhance access to

medication-assisted 

treatment

 (MAT)

 through telehealth, via live video consults. 

Funded through 

U.S. Centers for Medicare and Medicaid Services (CMS) via the SUPPORT ACT ("Section 1003 Demonstration Project to Increase Substance Use Provider Capacity")

.

 

Developing tool kits and other informational materials for program implementation

 

Providing webinars on a wide variety of regional and national topics related to telehealth
The 12 regional and 2 national TRCs are expertly staffed and lead the advancement and accessibility of telehealth with a focus in rural healthcare and can assist with:  
telehealth technology selection

 

offering guidance to grantees on how to assess 

technology solutions and 

vendors

 

building staff capacity for telehealth interventions

 

legal and regulatory considerations

 

protocol and workflow design

 

strategic business planning

 

training

 
The TRCs have developed a number of resources that may be helpful for both proposal planning and project implementation, including but not limited to: 
Telehealth Service Provider Directory

:

 provides a comprehensive listing of current telehealth service providers

 

Telehealth Resource Library

:

includes over 4,000 peer-reviewed articles, presentations, and other resources specific to telehealth

 

NCTRC 

Fact Sheets

 

 

NCTRC Resource Page

: includes key resources from each of the Telehealth Resource Centers, such as toolkits, 

checklists

, 

fact sheets, reports and 

more

 
As a consortium, the TRCs are committed to helping health systems, organizations, practices, providers, state agencies, policymakers, and others overcome barriers, advance telehealth education, and provide practical resources for implementation.  
For more information, visit  www.telehealthresourcecenter.org